Terraria has a long list of accessories, offering unique benefits once you get them. From a simple Aglet to the most notable Shield of Cthulhu, you can outrun enemies faster or dodge enemy attacks.
But since there's a limit to the number of accessories you can equip, combining them is an alternative. After all, it's game-changing if you can have all perks in one Accessory Slot.
In this guide, we've provided every possible Accessory Combination in Terraria. We've excluded the Panic Necklace and Band of Starpower as getting them is more convenient on Crimson and Corruption biomes, respectively.
How to Combine Accessories
The Tinkerer's Workshop is a crafting station in Terraria where you can combine accessories. The Tinkerer – which appears in the Cavern layer upon repelling the Goblin Invasion – sells it for 10 Gold Coins.
Note: Accessory combinations in this list are updated as of Terraria version 1.4.4. We'll keep you posted on the changes.
Offensive Accessory Combinations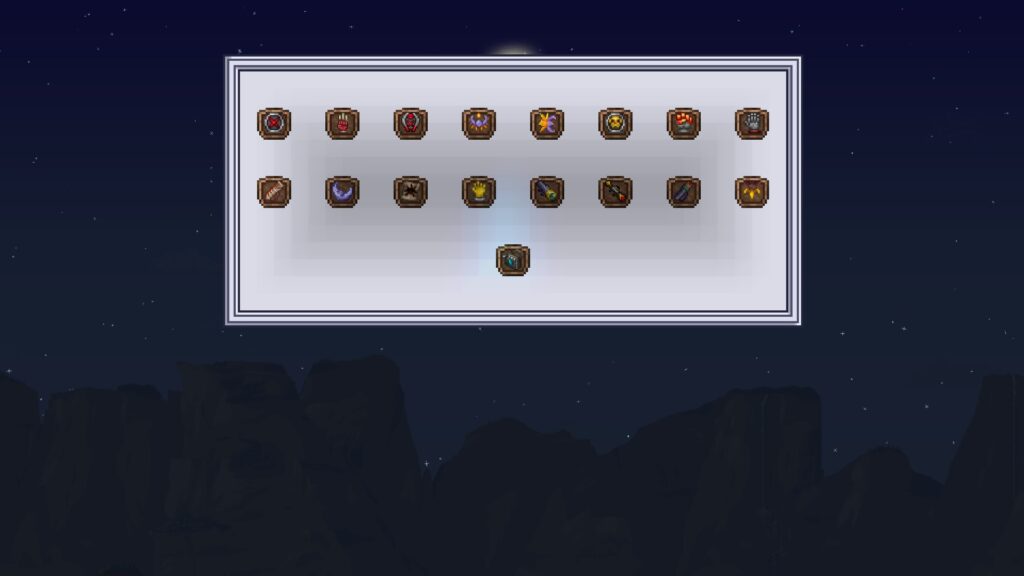 Name
Function
Materials Needed
Avenger Emblem
• 12% damage increase to all weapons
• 1 Ranger Emblem
or
Sorcerer Emblem
or Summoner Emblem
or Warrior Emblem

• 5 Souls of Fright

• 5 Souls of Might

• 5 Souls of Sight
Berserker's Glove
• Autoswing for all melee weapons

• 400 aggro increase

• 100% melee knockback bonus

• 12% melee speed increase

• 10% melee weapon size bonus

• 8 defense increase
• 1 Flesh Knuckles

• 1 Power Glove
Celestial Emblem
• 18.75 tiles wider range for picking up Mana Stars

• 15% magic damage boost
• 1 Avenger Emblem

• 1 Celestial Magnet
Celestial Shell
Common bonuses:
• More mobility in water and honey

• Prevents drowning

• 15% mining speed boost

• 10% melee speed and universal damage

• 4 added defense

• 2% critical strike chance buff

• 1 HP/s when regenerating health

• 0.5 added minion knockback

Werewolf special (if not underwater):
• Slight increase in jump height and speed

• 5.1% melee damage and speed boost

• 5% more mobility

• 3 added defense

• 2% melee critical strike chance boost

• 0.5 HP/s when regenerating health
• 1 Celestial Stone

• 1 Moon Shell
Celestial Stone
• 15% mining speed bonus

• 10% melee speed and universal damage boost

• 4 added defense

• 2% critical strike chance boost

• 1 HP/s when regenerating health

• 0.5 added minion knockback
• 1 Moon Stone

• 1 Sun Stone
Destroyer Emblem
• 10% more damage to all weapons

• 8% critical hit chance boost
• 1 Avenger Emblem

• 1 Eye of the Golem
Fire Gauntlet
• All melee weapons can autoswing

• Inflicts Hellfire debuff for two to six seconds

• 100% added knockback

• 12% added attack damage and speed

• 10% bigger size (on some melee weapons)
• 1 Magma Stone

• 1 Mechanical Glove
Mechanical Glove
Berserker's Glove
• 1 Avenger Emblem

• 1 Power Glove
Molten Quiver
• Arrow speed boost (100% more)

• Turns Wooden Arrows into Flaming Arrows

• 20% chance to save arrows

• 10% arrow damage boost
• 1 Magic Quiver

• 1 Magma Stone
Moon Shell
Werewolf special:
• Slight jump height and speed increase

• 5.1% melee damage and speed boost

• 5% movement speed increase

• 3 added defense

• 2% melee critical strike chance buff

• 0.5 HP/s added when regenerating health

Merfolk special:
• More liquid mobility

• Negates drowning
• All melee weapons can now autoswing 

• Doubles a melee weapon's knockback (base stat-dependent) 

• 12% melee damage and speed boost 

• 10% weapon size buff
Papyrus Scarab
• 15% more summon damage

• 2 added minion, whip, and sentry knockback

• 1 added maximum minion count
• 1 Hercules Beetle

• 1 Necromantic Scroll
Power Glove
• 1 Moon Charm 

• 1 Neptune's Shell
• 1 Feral Claws

• 1 Titan Glove
Recon Scope
• View range for guns is increased

• 400 aggro decrease

• 10% ranged damage and critical strike chance increase
• 1 Putrid Scent

• 1 Sniper Scope
Sniper Scope
• View range for guns is increased

• 10% ranged damage and critical strike chance increase
• 1 Destroyer Emblem

• 1 Rifle Scope
• All melee weapons can now autoswing 

• Doubles a weapon's knockback (base stats-dependent) 

• 12% melee speed boost 

• 10% bigger melee weapons
Stalker's Quiver
• 1 Magic Quiver

• 1 Putrid Scent
Stinger Necklace
• Releases one to three (Classic) / four (Expert & Master) bees upon taking damage. Also grants the Honey buff for five seconds

• 5 added armor penetration
• 1 Honey Comb

• 1 Shark Tooth Necklace
Yoyo Bag
• Can use two Yoyos

• Can use two counterweights

• Range increase
• 1 Black Counterweight
or
Blue Counterweight
or
Green Counterweight
or
Purple Counterweight
or
Red Counterweight
or
Yellow Counterweight

• 1 White String 1

• Yoyo Glove
Defensive Accessory Combinations
Name
Function
Materials Needed
Ankh Charm
Makes you immune to the following debuffs:
• Bleeding
• Broken Armor
• Confused
• Cursed
• Darkness
• Poisoned
• Silenced
• Slow
• Stoned
• Weak
• 1 Armor Bracing

• 1 Countercurse Mantra

• 1 Medicated Bandage

• 1 Reflective Shades

• 1 The Plan
Ankh Shield
Makes you immune to the following debuffs:
• Bleeding
• Broken Armor
• Burning
• Chilled
• Confused
• Cursed
• Darkness
• Poisoned
• Silenced
• Slow
• Stoned
• Weak

• Total knockback immunity

• 4 added defense
• 1 Ankh Charm

• 1 Obsidian Shield
Armor Bracing
• Provides immunity to Broken Armor and Weakness
• 1 Armor Polish

• 1 Vitamins
Bee Cloak
• Releases one to three (Classic) / four (Expert & Master) bees upon taking damage. Also grants the Honey buff for five seconds

• Summons three damaging stars around you after taking damage
• 1 Honey Comb

• 1 Star Cloak
Countercurse Mantra
• Provides immunity to Curse and Silence debuffs
• 1 Megaphone

• 1 Nazar
Frozen Shield
• Total knockback immunity

• 25% damage reduction if your health is below 50% (Ice Barrier buff)

• 25% damage absorption from a team member taking damage from hostile sources (base stats-dependent) if your health is above 25% (Paladin's Shield buff)

• 6 added defense
• Total knockback immunity 

• 25% damage reduction if your health is below 50% (Ice Barrier buff) 

• 25% damage absorption from a team member taking damage from hostile sources (base stats-dependent) if your health is above 25% (Paladin's Shield buff) 

• 6 added defense
Hero Shield
• 1 Frozen Turtle Shell 

• 1 Paladin's Shield
• Total knockback immunity 

• 400 aggro increase 

• 25% damage absorption from a team member taking damage from hostile sources (base stats-dependent) if your health is above 25% (Paladin's Shield buff) 

• 10 added defense
Magma Skull
• Immunity to Burning debuff-inflicting blocks

• Lava immunity for seven seconds
• 1 Lava Charm

• 1 Obsidian Skull
Medicated Bandage
• Provides immunity to Bleeding and Poison debuffs
• 1 Adhesive Bandage

• 1 Bezoar
Molten Charm
• Immunity to Burning debuff-inflicting blocks

• Lava immunity for seven seconds
• 1 Lava Charm

• 1 Obsidian Skull
Molten Skull Rose
• Halves the damage you receive from Lava

• Immunity to Burning debuff-inflicting blocks

• Lava immunity for seven seconds
• 1 Lava Charm & Obsidian Skull Rose
or
1 Magma Skull & Obsidian Rose
or
1 Magma Skull & Obsidian Skull Rose
Obsidian Horseshoe
• Fall Damage negation

• Immunity to Burning debuff-inflicting blocks
• 1 Lucky Horseshoe

• 1 Obsidian Skull
Obsidian Shield
• Immunity to Burning debuff-inflicting blocks

• Total knockback immunity

• 2 added defense
• 1 Cobalt Shield

• 1 Obsidian Skull
Obsidian Skull Rose
• Halves the damage you receive from Lava

• Immunity to Burning debuff-inflicting blocks
• 1 Obsidian Rose

• 1 Obsidian Skull
Obsidian Water Walking Boots
• Immunity to Burning debuff-inflicting blocks

• Walking on Water, Honey, and Shimmer is now possible
• 1 Obsidian Skull

• 1 Water Walking Boots
Reflective Shades
• Provides immunity to Darkness and Petrification debuffs
• 1 Blindfold

• 1 Pocket Mirror
Star Veil
• Summons three damaging stars around you after taking damage

• 1.33 seconds total duration increase for invincibility frames (when damage is taken)
• 1 Cross Necklace

• 1 Star Cloak
The Plan
• Provides immunity to Confusion and Slow debuffs
• 1 Fast Clock

• 1 Trifold Map
Ultrabright Helmet
• Illuminates light and increases the light level all sources give off

• 4 added defense
• 1 Mining Helmet

• 1 Night Vision Helmet
Restorative Accessory Combinations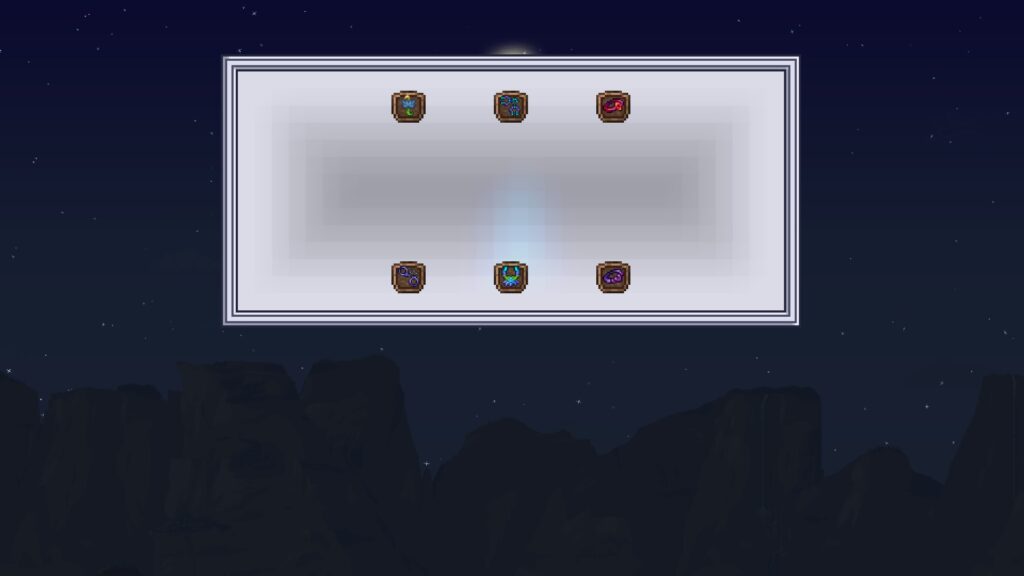 Name
Function
Materials Needed
Arcane Flower
• Automatically consumes mana potions as needed

• 400 aggro decrease

• 8% mana cost reduction
• 1 Mana Flower

• 1 Putrid Scent
Celestial Cuffs
• Mana restoration when hit

• 20 additional max mana

• 18.75 tiles wider range for picking up Mana Stars
• 1 Celestial Magnet

• 1 Magic Cuffs
Charm of Myths
• 25% duration decrease when inflicted with the Potion Sickness debuff

• 1 HP/s when regenerating health
• 1 Band of Regeneration

• 1 Philosopher's Stone
Magic Cuffs
• Mana restoration when hit

• 20 additional max mana
• 1 Mana Regeneration Band

• 1 Shackle
Magnet Flower
• Automatically consumes mana potions as needed

• 18.75 tiles wider range for picking up Mana Stars

• 8% mana cost reduction
• 1 Celestial Magnet

• 1 Mana Flower
Mana Cloak
• 1 Band of Regeneration 

• 1 Philosopher's Stone
• 1 Mana Flower

• 1 Star Cloak
Mana Flower
• Automatically consumes mana potions as needed

• 8% mana cost reduction
• Automatically consumes mana potions as needed 

• Summons three damaging stars around you after taking damage. If one of them hits a solid block, it'll become a special glowing mana star, restoring 50 mana points 

• 8% mana cost reduction
Mana Regeneration Band
• 20 additional max mana

• 2.875 MP/s to 14.375 MP/s increase
• 1 Band of Regeneration

• 1 Band of Starpower
Movement Accessory Combinations
Name
Function
Materials Needed
Amber Horseshoe Balloon
• Fall Damage immunity

• Releases bees when attacked to retaliate. Also grants the Honey buff

• 75% more jump height
• 1 Honey Balloon

• 1 Lucky Horseshoe
Amphibian Boots
• Enables auto-jumping

• 31 mph maximum movement speed

• 10 tiles maximum safe falling distance

• 1.6 jump speed increase
• 1 Frog Leg

• 1 Sailfish Boots
Arctic Diving Gear
• Complete immunity to the Chilled debuff when touching Water in Ice and Snow biomes (Expert Mode)

• Extra ice mobility

• Gives off light when worn. Generate more when submerged in Water or Honey

• Lets you swim freely

• Total underwater exposure without getting drowned for one minute and 33.33 seconds

• When drowning, health lost is reduced to 1/4
• 1 Ice Skates

• 1 Jellyfish Diving Gear
Blizzard in a Balloon
• Allows double jumping

• 33% jump height increase

• 30% jump speed boost
• 1 Blizzard in a Bottle

• 1 Shiny Red Balloon
Blue Horseshoe Balloon
• Allows double jumping

• Fall Damage immunity

• 75% jump height increase
• 1 Cloud in a Bottle

• 1 Lucky Horseshoe
Bundle of Balloons
• Allows quadruple jumping

• 33% jump duration increase

• 30% jump speed boost
• 1 Blizzard in a Balloon

• 1 Cloud in a Balloon

• 1 Sandstorm in a Balloon
Bundle of Horseshoe Balloons
• Allows quadruple jumping

• Fall Damage immunity

• 33% jump duration increase

• 30% jump speed boost

• 0.05 added Luck
• 1 Bundle of Balloons & Lucky Horseshoe
or
1 Blizzard in a Balloon, Cloud in a Balloon, Lucky Horseshoe, Sandstorm in a Balloon
or
1 Any Blizzard Balloon, Any Sandstorm Balloon, Blue Horseshoe Balloon
or
1 Any Cloud Balloon, Any Sandstorm Balloon, White Horseshoe Balloon
or
1 Any Blizzard Balloon, Any Cloud Balloon, Yellow Horseshoe Balloon
Cloud in a Balloon
• Allows double jumping

• 33% jump height boost

• 30% jump speed boost
• 1 Cloud in a Bottle

• 1 Shiny Red Balloon
Diving Gear
• Lets you swim freely

• Total underwater exposure without getting drowned for one minute and 33.33 seconds

• When drowning, health lost is reduced to 1/4
• 1 Diving Helmet

• 1 Flipper
Fairy Boots
• Flight is enabled

• Movement speed increase
• 1 Flower Boots

• 1 Spectre Boots
Fart in a Balloon
• Allows double jumping

• 33% jump height buff

• 30% jump speed increase
• 1 Fart in a Jar

• 1 Shiny Red Balloon
Fart in a Jar
• Allows double jumping
• 1 Cloud in a Bottle

• 1 Whoopie Cushion
Frog Flipper
• Auto-jump enabled

• Lets you swim freely

• 10 maximum tiles for a safe falling distance

• 1.6 jump speed increase
• 1 Flipper

• 1 Frog Leg
Frog Gear
• Auto-jump enabled

• Lets you climb walls

• Lets you swim freely

• 10 maximum tiles for a safe falling distance

• 1.6 jump speed increase
• 1 Flipper & Frog Webbing
or
1 Frog Flipper & Tiger Climbing Gear
Frog Webbing
• Auto-jump enabled

• Lets you climb walls

• 10 maximum tiles for a safe falling distance

• 1.6 jump speed increase
• 1 Frog Leg

• 1 Tiger Climbing Gear
Frostspark Boots
• Allows total movement control on Ice blocks

• Enables flight

• Maximum mph caps at 34 instead of 15

• 8% movement speed increase
• 1 Ice Skates

• 1 Lightning Boots
Green Horseshoe Balloon
• Allows double jumping

• Fall Damage immunity

• 33% jump height boost 30% jump speed increase
1 Fart in a Balloon 1 Lucky Horseshoe
Hellfire Treads
• Enables flight

• Maximum mph caps at 30 instead of 15
• 1 Flame Waker Boots

• 1 Spectre Boots
Honey Balloon
• Releases one to three (Classic) / four (Expert & Master) bees upon taking damage. Also grants the Honey buff for five seconds

• 33% jump height increase

• 30% jump speed boost
• 1 Honey Comb

• 1 Shiny Red Balloon
Jellyfish Diving Gear
• Gives off light when worn. Generate more when submerged in Water or Honey

• Lets you swim freely

• Total underwater exposure without getting drowned for one minute and 33.33 seconds

• When drowning, health lost is reduced to 1/4
• 1 Diving Gear

• 1 Jellyfish Necklace
Lava Waders
• Base damage taken from touching lava reduced from 80 to 35

• Immunity to Burning debuff-inflicting blocks

• Lava immunity for seven seconds

• Walking on liquids (including Water, Honey, Lava, and Shimmer) is now possible
• 1 Lava Charm, Obsidian Rose, Obsidian Water Walking Boots
or
1 Molten Charm, Obsidian Rose, Water Walking Boots
or
1 Molten Charm, Obsidian Rose, Obsidian Water Walking Boots
or
1 Molten Skull Rose & Obsidian Water Walking Boots
or
1 Molten Skull Rose & Water Walking Boots
Lightning Boots
• Enables flight

• Maximum mph caps at 34 instead of 15

• 8% movement speed boost
• 1 Aglet

• 1 Anklet of the Wind

• 1 Spectre Boots
Master Ninja Gear
• 10% chance to dodge enemy attacks (auto)

• Lets you climb walls

• Quick dash enabled
• 1 Black Belt

• 1 Tabi

• 1 Tiger Climbing Gear
Pink Horseshoe Balloon
• Allows double jumping

• Fall Damage immunity

• 33% jump height boost

• 30% jump speed boost
• 1 Lucky Horseshoe

• 1 Sharkron Balloon
Sandstorm in a Balloon
• Allows double jumping

• 33% jump height boost

• 30% jump speed boost
• 1 Sandstorm in a Bottle

• 1 Shiny Red Baloon
Sharkron Balloon
• Allows double jumping

• 33% jump height boost

• 30% jump speed boost
• 1 Balloon Pufferfish

• 1 Tsunami in a Bottle
Spectre Boots
• Enables flight

• Maximum mph caps at 30 instead of 15
• 1 Rocket Boots

• 1 Dunerider Boots or
Flurry Boots
or
Hermes Boots
or
Sailfish Boots
Sweetheart Necklace
• Grants the Panic! Buff when damaged, increasing movement speed by 100% for eight seconds

• Releases one to three (Classic) / four (Expert & Master) bees upon taking damage. Also grants the Honey buff for five seconds
• 1 Honey Comb

• 1 Panic Necklace
Terraspark Boots
• Allows total movement control on Ice blocks

• Base damage taken from touching lava reduced from 80 to 35

• Enables flight Immunity to Burning debuff-inflicting blocks

• Lava immunity for seven seconds

• Maximum mph caps at 34 instead of 15

• Walking on liquids (including Water, Honey, Lava, and Shimmer) is now possible

• 8% movement speed increase
• 1 Frostspark Boots

• 1 Lava Waders
Tiger Climbing Gear
• Lets you ascend and descend walls safely
• 1 Climbing Claws

• 1 Shoe Spikes
White Horseshoe Balloon
• Allows double jumping

• Fall Damage immunity

• 33% jump height increase

• 30% jump speed increase
• 1 Blizzard in a Balloon

• 1 Lucky Horseshoe Balloon
Yellow Horseshoe Balloon
• Allows double jumping

• Fall Damage immunity

• 75% jump height boost
• 1 Lucky Horseshoe

• 1 Sandstorm in a Balloon
Informational Accessory Combinations
Name
Functions
Materials Needed
Cell Phone
• Lets you teleport back to the spawn point

Displays the following:
• Fishing Power
• Weather
• Moon Phase
• Elevation
• Distance from the center of the world
• Time
• Valuable item near you
• Movement Speed
• DPS
• Kill Count of the latest slain enemy
• Rare creatures nearby
• Number of nearby enemies
• 1 PDA

• 1 Ice Mirror or Magic Mirror
Fish Finder
Displays the following:
• Fishing Power
• Weather
• Moon Phase
• 1 Fisherman's Pocket Guide

• 1 Sextant

• 1 Weather Radio
Goblin Tech
Displays the following:
• Movement Speed
• DPS
• Valuable item near you
• 1 DPS Meter

• 1 Metal Detector

• 1 Stopwatch
GPS
Displays the following:
• Elevation
• Distance from the center of the world
• Time
• 1 Compass

• 1 Depth Meter

• 1 Gold Watch or Platinum Watch
Multicolor Wrench
• Can place and remove any wire color combination
• 1 Blue Wrench

• 1 Green Wrench

• 1 Red Wrench

• 1 Wire Cutter

• 1 Yellow Wrench
PDA
Displays the following:
• Fishing information
• Weather
• Moon Phase
• Elevation
• Distance from the center of the world
• Time
• Valuable item near you
• Movement Speed
• DPS
• Kill Count of the latest slain enemy
• Rare creatures nearby
• Number of nearby enemies
• 1 Fish Finder

• 1 GPS

• 1 Goblin Tech

• 1 R.E.K. 3000
R.E.K. 3000
Displays the following:
• Kill Count of the latest slain enemy
• Rare creatures nearby
• Number of nearby enemies
• 1 Lifeform Analyzer

• 1 Radar

• 1 Tally Counter
Shellphone
• 1 Fisherman's Pocket Guide 

• 1 Sextant 

• 1 Weather Radio
• 1 Cell Phone

• 1 Demon Conch

• 1 Magic Conch
The Grand Design
• Can place and remove any wire color combination

• Reveals actuators and wires used

• Can measure tile distances
• 1 Mechanical Lens

• 1 Mechanical Ruler

• 1 Multicolor Wrench

• 60 Wires
Fishing Accessory Combinations
Name
Functions
Materials Needed
Angler Tackle Bag
• 10 added Fishing Power

• Prevents Fishing Line from breaking when you try to reel in

• Decreased bait consumption (except Gold Worms (5%) and Truffle Worms (0%) fixed value)
• 1 Angler Earring

• 1 High Test Fishing Line

• 1 Tackle Box
Argon Moss Fishing Bobber
• 10 added Fishing Power
• 5 Argon Mosses

• 1 Glowing Fishing Bobber
Glowing Fishing Bobber
• 10 added Fishing Power
• 5 Fallen Stars

• 1 Fishing Bobber
Helium Moss Fishing Bobber
• 10 added Fishing Power
• 1 Glowing Fishing Bobber

• 5 Helium Mosses
Krypton Moss Fishing Bobber
• 10 added Fishing Power
• 1 Glowing Fishing Bobber

• 5 Krypton Mosses
Lava Moss Fishing Bobber
• 10 added Fishing Power
• 1 Glowing Fishing Bobber

• 1 Lava Mosses
Lavaproof Tackle Bag
• 10 added Fishing Power

• Prevents Fishing Line from breaking when you try to reel in

• Decreased bait consumption (except Gold Worms (5%) and Truffle Worms (0%) fixed value)

• Lets you fish in Lava
• 1 Angler Tackle Bag

• 1 Lavaproof Fishing Hook
Neon Moss Fishing Bobber
• 10 added Fishing Power
• 1 Glowing Fishing Bobber

• 5 Neon Mosses
Xenon Moss Fishing Bobber
• 10 added Fishing Power
• 1 Glowing Fishing Bobber

• 5 Xenon Mosses
Construction Accessory Combinations
Name
Functions
Materials Needed
Architect Gizmo Pack
• 50% Block, Furniture, and Wall placement speed increase

• 3×2 tiles increase when mining or placing Blocks

• Automatically paints placed objects
• 1 Brick Layer

• 1 Extendo Grip

• 1 Paint Sprayer

• 1 Portable Cement Mixer
Hand of Creation
• Lets you perform jump reach

• Pickup range of 12 instead of 2.625 tiles

• 25% mining speed increase

• 50% Block, Furniture, and Wall placement speed increase

• 3×2 tiles increase when mining or placing Blocks

• Automatically paints placed objects
• 1 Ancient Chisel

• 1 Architect Gizmo Pack

• 1 Step Stool

• 1 Treasure Magnet
Other Accessory Combinations
Name
Functions
Materials Needed
Coin Ring
• 1 to 10 Coins will drop when an enemy is hit (20%)

• Pickup range of 24.5 instead of 2.625 (Coins only)
• 1 Gold Ring

• Lucky Coin
Greedy Ring
• 1 to 10 Coins will drop when an enemy is hit (20%)

• Pickup range of 24.5 instead of 2.625 (Coins only)

• 20% item discounts to all NPC shops except those that require Defender Medals
• 1 Coin Ring

• 1 Discount Card
Ultra Absorbant Sponge
• Lets you absorb all liquids
• 1 Honey Absorbant Sponge

• 1 Lava Absorbant Sponge

• 1 Super Absorbant Sponge